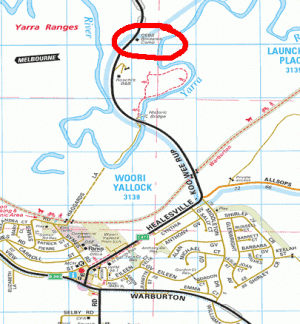 Melways 286G6
CEBS camp Bindaree
1145 Healesville/Koo-wee-rup Road, Woori Yallock,
Melways: 286, g6
Friday 22nd March - Sunday 24thMarch
Students: $30
Non-students: $50
One night only: $20
Day only: $10(*)
Your first Camp: $20
Community Card gives a $5 discount for students except for Day only
Contact: murp@yoyo.its.monash.edu.au
What is it?
The MURP camp (we don't actually camp, we stay inside) is a great excuse to come along and play boardgames, play roleplaying games, sit around and be social and generally get to know the rest of the club. Think of it as a weekend long party at someone else's house.
The campsite for the first camp this year will be CEBS Camp, Bindaree, where we've had the last few camps. The camp is just north of Woori Yallock, off the Warburton Highway. Its about an hour's drive from the Clayton campus, maybe a bit more in peak hour. You can find out a bit more about the site at: http://cebs.alphalink.com.au/CWSBHP.htm
What's this about 'First Camp' being cheaper?
Because we like to see new folks come along to a camp, we're offering a special cut price for anyone that has never come along to one of the MURP camps. It doesn't matter if you are a first year or not; as long as you haven't come along before, you pay a pittance of $20 for the whole weekend's food and accomodation.
How do you get there?
Basically you need to get out toward the Warburton Highway, either via Maroondah Highway or up through other random directions. One of the better routes is to drive out via Canterbury Rd, and up over Mt Evelyn, then down the other side to the Warburton Highway. From there, its not too long a trip out to Woori Yallock.
Not driving? That's fine - when you fill in the form below, include that you'd like a lift, and from where, and about when, and we will arrange lifts for all.
What should you bring?
Well, yourself and any friends you can con into coming along, obviously. What else? A sleeping bag, pillows and blankets as you deem necessary for your own comfort - there is no linen on the beds at all, so make sure you bring something to sleep in Clothes. Anything weird you want to eat - normal food (vegetarian as well) is provided from Saturday brekkie until Sunday lunch (inclusive), but if you want munchies or anything else, you need to bring it. Anything alcoholic you want to drink.
What else? Feel free to bring boardgames (Settlers of Catan and Roborally get played a lot), cardgames, roleplaying games or scenarios or other entertainments you or others might like. There are a lot of state and national parks around, and some rather pretty views if you feel like doing photos, as well as wineries (Yarra Valley), Healesville Sanctuary, and so on around the area.
What actually happens?
Ok, in short, we hire a campsite for a weekend. People show up randomly on the Friday night (after 6pm please, no food provided on Friday night). A couple of random social games might be organised on the Friday, but Friday is usually just spent being social and generally getting to know people.
Saturday morning is spent partially recovering from Friday night. Traditionally Saturday afternoon is spent playing boardgames or roleplaying. Some actual official roleplaying might happen on Saturday night but feel free to bring and organise stuff.
Sunday is spent recovering from Saturday, slowly getting stuff together, cleaning up and heading off back to Melbourne in the midafternoon.
What about fires?
If the camp area is threatened by fires, we'll re-evaluate the viability at the time and let people know. Please makes sure your email address is right so that we can contact you.
---
Collection statement
MURP (Monash University Role Players) collects information regarding personal details, medical conditions and medication where applicable, solely for the purposes of providing effective first aid and medical attention to participants. This information is kept strictly confidential, and will only be disclosed for the purposes for which it is collected. By participating in the MURP camp and providing this information, you consent to us collecting the information for these purposes.
Conditions of Participation
I acknowledge that by attending the MURP Club camp on 22/3/2013 to 24/3/2013, I am doing so at my own risk. The camp organisers will do their best to exercise due care in all activities, but liability for any injury sustained by myself on the camp while engaged in activities outside Monash University'ss guidelines is denied by the club, Monash Student Association, its staff, and Monash University. I accept that if, as a result of my actions, the camp organisers deem that I should return home from the camp before its conclusion, I am responsible for any expenses in transporting myself home. I am aware that emergency situations may arise and I hereby consent to receive treatment from a legally qualified medical practitioner. I undertake to be responsible for the cost of any such medical, dental or hospital attention.
By completing the form below, I consent to MURP collecting my information for this club camp, to be held 22/3/2013-24/3/2013, and agree to the above conditions.